Today I am so excited to have Kendall from
Reading, Reading & Life
join us with our first Guest Post! I met Kendall through
The SITS Girls
, which is a wonderful blogging community of over 7,000 women bloggers who are all dedicated to supporting one another.
Kendall's blog is primarily focused on Books and Book Reviews and her favorite genres are horror, mystery, thriller and non-fiction true crime. She was also just chosen to be a reviewer for
Suspense Magazine!
Kendall has taught me so much, she has always been so kind to answer any of my questions and guide me in the right direction. I love her writing style and I think you will too! We have really enjoyed getting to know each other and her sense of humor is wonderful!! I am honored that she agreed to write a Guest Post for my blog! Thank you Kendall! Please stop by her
blog
, I know you will enjoy your time there! Here is her post!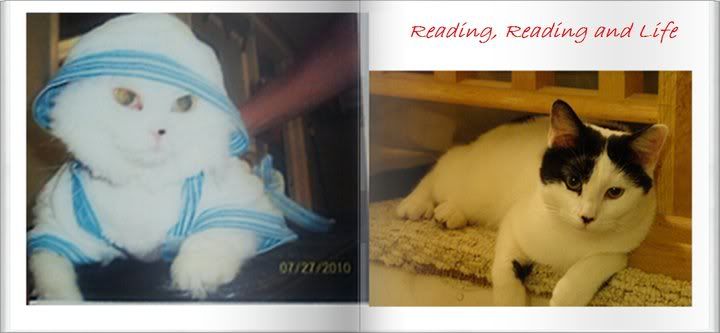 Why I Love Fostering Kitties
Lisa is being kind enough to allow me to guest post on her blog today as part of our tribe networking. My blog,
Reading, Reading & Life
is mostly books and book reviews. Usually my header shows two of our six cats but they are gone for the Halloween theme. Yes, we have six cats. Four are ours, one is a permanent foster due to age and health, and one is adoptable.
I would like to share with you why I think everyone should give fostering a try:
1. There are too many abandoned cats out on our streets that are not spayed or neutered and will continue to make more kittens.
2. Knowing you are helping an animal who otherwise may not have a chance makes you feel good inside.
3. It is a very rewarding feeling to take a scared cat and socialize them so they can have a furever home with a family.
4. Pets reduce stress so while you are helping the kitty he is helping you.
5. If you love cats but can't afford one fostering gives you the chance to have your kitty while he still stays under the umbrella of your rescue organization. Very low or no cost to you.
Meet Uncle Sal, our permanent foster
Sally Dada as we like to call him is soon to be 16 years old. His owners took him to the vet two years ago and asked to have him euthanized due to his age and some bathroom issues. The vet refused and called our rescue,
Smitten By Kittens
to foster him. Unfortunately there was no one open to foster him so he stayed at the vet in a cage for three months.
I asked about him one day and found out he was still at the vet and hubs and I went to pick him up the next day! No way did I want him to stay in a cage.
Uncle Sal is
declawe
d, a horrible, cruel, inhumane thing to do to a cat so he can't play the way the other cats do but he still has fun. He uses his scratching post or tries to. Earlier this summer Uncle Sal was diagnosed with
diabetes
. Thankfully with lots of help from his vet we were finally able to get it under control just this past week. We give him insulin shots twice a day and will for as long as he needs them. He doesn't love it but he doesn't fight us when it's shot time or what we have to stick his ear to check his glucose level. I truly believe he knows we are doing it to help him.
Uncle Sal has never had any issues with the litter box since he came to live with us. He has become such a sweet and loving baby and knows he is greatly loved. Like any elderly person he can be quite cranky and moody but we would not want him any other way.
Fostering Uncle Sal has been rewarding in so many ways. To watch him grow from a nasty cat who would not even let you touch him into a purring sweetie who rubs noses with you has been amazing. If the vet would have listened to his other owners Uncle Sal would not be here to make me laugh, keep me company when I am on the computer, or greet me after work. I don't know how many years he has but he will always have a "permanent foster home" here with us.
Helping animals is very rewarding and they need us to be their voice. Maybe you can find a way to help an animal that needs you.
A big thank you hug to Lisa for letting me hijack her blog today. This is my first guest post and it's not a book post! Please stop over and visit
me
sometime if you are looking for suggestions on what to read or maybe what not to read.